Hi everyone!
Can you believe that 2020 is almost over? Maybe it's because the pandemic has reduced my social obligations to a bare minimum or because I spent pretty much half of the year dreading exams, but these past few months have really seemed to fly by! So guess now is as good of a time as any to reflect on some reading-related things I still plan to do before we leave 2020 to the history books 😉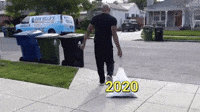 And what better way to do that than with The End of the Year Book Tag? This was created by Ariel Bissett over on BookTube, and Riddhi over at Whispering Stories was kind enough to tag me 😊 So if you haven't checked out her wonderful blog yet, go do it!!!
Before we get into the questions, though – thank you so much for all the kind messages and birthday greetings that made it my way last week! You guys really cheered me up, and this week was already loads better than the one before it. My cat is still pretty sick, but at least she's eating again and (sort of) walking, so I'm cautiously optimistic that she'll get better. And my birthday turned out to be a really relaxing day, with lots of family time and food, so I definitely can't complain!
Also, I got some pretty wonderful new books 🥰 – one of them being The Invisible Life of Addie LaRue, which I'm now utterly obsessed with. I only intended to peek at the first chapter to get a feel for the story and then ended up having to do homework until well past midnight because I couldn't put the book down and neglected everything I actually I had to do for univesity… Oops. But yeah, this one is by far my favorite Victoria Schwab book now (I'm so sorry, Vicious 😅), and I highly recommend you go and read it if you haven't already!
However, before this turns into an Addie LaRue gush, let's get into the tag questions and see what the rest of 2020 has in store for me!
---
Are there any books you started this year that you need to finish?
Umm, yes *laughs nervously* – The Dragon Republic by R.F. Kuang! I actually feel a tiny bit guilty about postponing this one for so long, since I absolutely love The Poppy War and am dying to know how this series continues! But when I started The Dragon Republic sometime in April (I think 🙈), I realized that I'd forgotten quite a few details from the first book, so I decided to reread The Poppy War before continuing on. However, reading two un-put-downable 700-page books in the midst of exams seemed like a very bad idea, so it took me until October to finally get back to The Poppy War 😅 But I'm all caught up now, so The Dragon Republic is probably going to be either my first or second Christmas break read! 🤗
---
Do you have an autumnal book to transition into the end of the year?
No, not really. I do usually devour at least one Harry Potter book in December, though, so I guess that's the least Christmassy of my end of the year rereads that I could pick for this question? 😁 Right now, I'm actually really in the mood for Prisoner of Azkaban – I've only read that one once this year, so I guess I'm overdue for a reread 😊
---
Is there a new release you're still waiting for?
2020 releases – no, not really. I mean, there are only like three weeks left in this year… But Kristin Cashore's Winterkeep comes out on January 19, 2021, and I AM SO EXCITED!!! 😍😍😍 You guys know how obsessed I am with the Graceling series, especially Bitterblue, so the fact that we are getting a sequel has me freaking out!!! Also, can we just take a moment to thank whoever designed this absolutely stunning cover?
---
What are three books you want to read before the end of the year?
My three most pressing ones are probably The Empire of Gold by S.A. Chakraborty, The Dragon Republic by R.F. Kuang and Die Längste Nacht (German for 'the longest night') by Isabel Abedi. The first two, I've been dying to read basically all year, but I decided to save them for Christmas break so that, if I want to, I can stay up all night to finish them without having to worry about exams or eight o'clock classes that might be affected rather negatively the next day 😂 And I'm also pretty intrigued about Die Längste Nacht – this was lent to me by one of my friends, and she happened to let it slip that the protagonist's dad works at a publishing company 😍 (Also, this might kind of have been in my possession for quite a while and I'm thinking it might not be a bad idea to return it before the new year? 😅 If you're reading this, dear lender, feel free to hold me accountable to these words 😉)
---
Is there a book you think could still shock you and become your favorite of the year?
That's going to be horribly difficult, because The Winternight Trilogy and The How and the Why were just amazing! 🥰 But maybe The Empire of Gold still stands a chance? The first two books in this trilogy have steadily made it into my yearly favorites, so my hopes for this finale are honestly exorbitant! 🤗
---
Have you already started making reading plans for 2021?
I don't even make plans for the next month, let alone the next year… I'll just grab whatever's lying around 😁 But you bet I'll be reading Winterkeep the minute it comes out!
Also, I fully intend to get my physical TBR pile back down to zero, so if I haven't managed that by the end of December, I'll definitely be tackling that in the first week of January!
Finally, I really want to try and read a novel in Russian! I tried this year, but my language skills were still so terrible that it took me like 10 minutes a page… I didn't even make it past a chapter before giving up 🙈 But with crazy amount of homework our Russian instructor is making us do this semester, maybe I'll have progressed enough to give it another go sometime at the end of next year?
---
Anyway, that pretty much wraps up my plans as far as reading is concerned these next few weeks! Do tell me if you relate to any of these and whether you've read any of the books that I mentioned here 😉
Also, since 2020 is almost over and I feel most people have already done this, I won't be tagging anyone specifically. But if you're interested and still want to let us all know about your reading plans, consider yourself tagged! I'd love to know what you'll be up to these next few weeks!
And, as always, I'd love to hear your thoughts in the comments: What books do you still plan on getting to this year? Which new release are you anticipating the most? Have you already made any reading plans for 2021? I would love to know!