If you've been keeping up with my wrap-ups, you'll know that I've been reading Shakespeare borderline obsessively for the past few months. And now, seven years after I read my first Shakespeare play, A Midsummer Night's Dream, in English class, I can finally say: I DID IT!!!
I have read all 39 plays in the Arden Shakespeare series, 38 of which are generally (at least partially) attributed to Shakespeare. The 39th play was Double Falsehood by Lewis Theobald, which was included in the collection because several critics suspect it might be the lost Shakespeare play Cardenio. Obviously, I had to read that for the sake of completeness, too!
So, anyway, since many of you have been following my Shakespeare journey for a while now, I thought I might sum up how reading all these plays has transformed me into a more sophisticated reader 🧐 Okay, kidding! I'm currently buddy reading Midnight Sun with a friend, so that should tell you everything you need to know about my reading tastes…
But reading Shakespeare's complete works was still a cool experience that I want to share with you! So before we get into my ranking of all the plays, here are a few general thoughts:
---
Why did I do this?
Well, my surface-level reason is "exam preparation". One month from now, I will be taking the Staatsexamen, an enormous series of tests you have to pass if you want to become a teacher in Bavaria. For English, that also encompasses an exam on British and American literature. The way this works is that you get to pick one of twelve questions, each of which focuses on a specific form (drama, poetry, narrative and expository texts) within a certain time frame. Since the questions are extremely specific and the required reading list is endlessly long for all the topics, you are highly encouraged to specialize in two or three of them…
Being the idiot that I am, I thought: Okay, well, why don't I use this as an opportunity to read all the really old stuff I don't know that much about yet? Why don't I choose the time periods from which I have read the fewest books so far? I love to learn, really wanted to get to more of the classics, and reading all of Shakespeare had always intrigued me anyway. So I went for "Dramatic Texts until 1700" as one of my specialist topics, despite only having read three Shakespeare plays up to that point (A Midsummer Night's Dream, Othello, and The Tempest)…
Was it a dumb decision? Maybe. In terms of the exam, I would probably have saved myself a lot of work if I went for a contemporary specialist topic, since I'd already read a lot more of the books on the list.
But then again, the closer we get to our own time, the more diverse literature gets! There are thousands of different genres and topics now! What if they gave me a work I didn't understand? Like Finnegan's Wake or something? *shudders*
Also, each topic always includes a weirdly specific comparison question – something like "Compare the way diaspora in Jamaica is dealt with in in this passage to at least three other texts by Black authors in the early 2000s". Just because you've read all the required reading, doesn't mean you'll be able to answer the questions if you haven't also read beyond the list. What would I do if I didn't know any books with elements that they wanted? The chance of that happening is 1000 times bigger with modern literature, just because there is so much MORE of it.
So yeah, overall, I still think my topic choices weren't the worst, either 😉
---
If I did this for exam preparation, wasn't my reading experience awful? This was required reading, after all…
Most definitely not! Reading all these plays was 100% worth it! Granted, I didn't like all of them, but I learned so much from reading them – I understand so much more about the time period, so many literary references, and the histories definitely helped me brush up on British history. And the language 😍 It's so beautiful, and often funny, and once you've read a few of the plays, you start to understand it so much better. Don't give up if you're hopelessly lost at first! Trust me, it gets better!
And then there are the good plays, the ones that make all the crappy ones worthwhile. The ones that go into amazing depth and tackle themes that are still so relevant today, like Othello or Richard III, for example. Or the hopelessly funny ones like Twelfth Night, Much Ado About Nothing or The Merry Wives of Windsor. You can most definitely still enjoy Shakespeare today!
---
Is Shakespeare overrated?
Maybe yes, maybe no? Shakespeare definitely has a couple of gems, but, let's be honest, he wrote some pretty shitty stuff, too. And I'd say a lot of his contemporary playwrights can definitely compete with him. Marlowe, Kyd, Fletcher, Jonson, Ford, Middleton, Tourneur, Behn, Congreve, Dryden… A lot of their plays are certainly on par with Shakespeare's stuff. In fact, my favorite pre-18th century play wasn't one of Shakespeare's at all, but John Webster's The Duchess of Malfi. It's sooo good! 😍
However, you can't deny that out of all of these people, Shakespeare has had the biggest influence. Heck, he's probably had the biggest influence ANY one person has ever had on literature! There are so many references to his works in other books and plays, no matter what time period they were written in, and there are even a bunch of sayings that were coined by him. Did you know that the phrases "star-crossed lovers" and "wild-goose chase" can be traced back to Romeo and Juliet?
Anyway, once you read all the plays, you suddenly see Shakespeare EVERYWHERE. It's kind of creepy, to be honest…
---
Got any tips for people who want to get into Shakespeare and don't know where to start?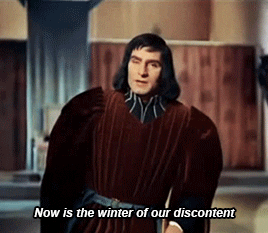 Don't you worry, I've got you! Of course I do 😉
Tip #1
Some good plays to start with are Twelfth Night, Much Ado About Nothing, A Midsummer Night's Dream, Othello, or Macbeth.
Those are all fairly easy to understand without much background knowledge, and all really good! Of course, if another play interests you more, feel free to go for that one – I think the best way to start is to pick something that sounds intriguing to YOU!
I wouldn't necessarily begin with one of the histories, though – you probably do need to do a bit of supplementary historical research there…
Tip #2
Don't get discouraged if you feel hopelessly lost at first! The language is very different from the English spoken today, and the plays include a ton of references to contemporary events or beliefs that you've probably never heard of.
That's why it's totally fine – and encouraged! – to look things up! I do not believe a single one of those pretentious people who say that they fully understood a Shakespeare play without any background reading.
Personally, when I was starting out, I would read the Sparknotes summary of every scene immediately after the scene itself, just to make sure that I'd fully understood what was going on. And Sparknotes also gives you a decent bit of historical background, as well.
Then, afterwards, I would read up on what critics had to say. Some books that I found super helpful were The English Renaissance by Andrew Hadfield or Ina Schabert's Shakespeare Handbuch, though unfortunately, I think that last one is only available in German.
However, it does get better! Once you've read a few plays, you start to know things. You know what the Essex rebellion was and how that shaped the histories. You know to expect corruption from all those evil Catholic countries. You know more than you'd like about Elizabethan and Jacobean innuendo, and suddenly, you can't unsee how vulgar some of these plays really are…
Tip #3
Find a friend who also wants to get into Shakespeare and buddy read! Honestly, my study group made this experience so much more fun! They didn't mind if we veered off topic because I needed to go on a 20-minute rant about how awful Cleopatra was. Or showed me wholesome videos of Patrick Stewart talking about the bumps on a B or Stephen Fry prancing around in yellow tights. That made everything so much better!
Tip #4
Go watch the plays! Shakespeare was meant to be seen on stage, not read. And it shows. If you actually see these in a theater – trust me, you will know what's going on, even if you don't know anything about the historical background or intertextual references. The actors will make things come to life for you!
None of my reading experiences of these plays can in any way compete with the actual performances I've seen. So if you take any of these tips to heart, let it be this one! In fact, I don't think it's a bad idea to go see one of the plays before you actually read one. That way, you can go into them more open-mindedly. They aren't old and stuffy, they are timeless!
---
The Plays
And finally, to top this off, here is my ranking of the plays from least favorite to favorite. Don't take this too seriously though – I feel pretty equally about many of them, and I'm sure if you asked me on a different day, the order I'd give wouldn't be exactly the same. Still, it should give you some idea as to what my overall thoughts on them are 😉
To make it more fun, I've also included a one sentence review for each play, as well as the three emojis that I think describe it best. Because who doesn't love emojis? 😊
---
The Two Noble Kinsmen 👬💕💪 – Chaucer's version of this story is heaps better, but still not good.
King Henry VIII 👸😢👶 – Sycophantic boringness that sucks up to Elizabeth I and James I like nobody's business and doesn't even include all the wives or the Reformation.
The Taming of the Shrew 🙎😬👰 – Has a promising frame narrative that completely disappears to make way for misogyny in its most saturated form – I don't care if you say it's actually a parody of social norms; that isn't evident from the text, and Katherine's final speech just about made me barf.
Troilus and Cressida ❤⛺💔 – The most boring account of the Trojan War that I've ever read (and that includes my Latin textbook)…
Titus Andronicus 🗡🗡🍰 – A massacre if I ever saw one.
Antony and Cleopatra 👊⛵😱 – Antony is an idiot, and did all these critics who think Cleopatra is a strong female character read a totally different play?
Coriolanus 🌾👦🗡 – An interesting companion read to The Hunger Games, but as far as Shakespeare plays go, this has got to be one of the more forgettable ones…
Double Falsehood 💏💔🐏 – At least one guy finally realizes the cross-dressing girl is not actually a boy in this one.
Timon of Athens 💸💎😠 – Timon's fake friends take advantage of his generosity, so Timon leaves and sits around in a forest, hates people, and nothing else really happens after that.
Love's Labour's Lost 📚👩‍👩‍👧‍👧😍 – Four scholars promise to stay away from women, so obviously all they do is run after them for the entire duration of the play.
King Henry IV, Part 2 👦🗡👑 – King Henry IV, Part 1, but worse.
As You Like It 👨‍❤️‍💋‍👨📜🌲 – Lots of lovesick people run around a forest, but it's not as good as A Midsummer Night's Dream.
King John 🇬🇧⛪🇫🇷 – A bunch of clerics and rulers with mommy issues are idiots.
King Henry VI, Part 2 💮🌹👑 – Richard Plantagenet starts being naughty, but at the moment, Jack Cade is the bigger problem.
King Henry VI, Part 1 🇬🇧🇫🇷🏹 – Joan of Arc did not deserve that ending!
All's Well That End's Well 👫🔕💏 – Vulgar like nobody's business, but Parolles is awesome!
The Winter's Tale 😡🐻💏 – Paranoid husband is responsible for a missing daughter and statue-wife, but THE BEAR, you guys!
The Tempest 🍃⛵😏 – Prospero is a power-hungry control freak, Ariel doesn't mind, and Caliban might be the only one who thinks for himself.
Pericles 📃⛵👨‍👩‍👧 – Lots of bad things happen because Pericles couldn't keep his nose out of other people's incest.
King Henry IV, Part 1 🍺🗡👑 – Falstaff, I love you!
Hamlet 👻🤔🍷 – I thought I was indecisive, but Hamlet takes it to a whole other level – and can we talk about the wasted opportunity that was that pirate subplot?
Romeo and Juliet 💏🍶😱 – Everyone (especially the parents) is dumb, but Juliet's nurse is priceless!
Cymbeline 👩👦🌲 – Imogen is really cool, but boy, her family and love life are messed up!
Two Gentlemen of Verona 👬🎶👰 – Thanks to the dog and Julia, this is further up on this list than it probably should be with that absolutely stupid ending.
King Richard II 👑🗨🗡 – If people had just let Richard become a poet instead of a ruler, they would have spared their country a lot of death.
King Lear 👩‍👩‍👧🌲😱 – Nihilistic like you wouldn't believe, so obviously I liked it.
King Henry V 🇫🇷👑🗡– Lots of insight on power and really funny language jokes!
The Merry Wives of Windsor 😍😂🌳 – All I ever needed was to see Falstaff dumped in the Thames and beaten up while dressed as a woman, so thank you for (allegedly) requesting this, Queen Elizabeth I!
Measure for Measure 😘🔗👰 – Maybe Vincentio didn't pick the best way to solve the problem of corruption and illicit sexual activity in his city…
The Comedy of Errors 👬👬❔ – Lots of twins with the same name get confused with one another and it's hilarious.
Julius Caesar 😎🔪🗡 – It's so typical that this gets named after the power-hungry dictator when this is really a story about poor, misunderstood Brutus…
Macbeth 👩‍👩‍👧🙋😱 – Scotland, witches, ghosts, and a power-hungry wife – sign me up!
King Richard III 🗣👑🗡 – Has a pretty stupid deus ex machina ending, but evil Richard more than made up for it!
King Henry VI, Part 3 💮🌹🗡 – Why did no one tell me how much evil Richard this had? 😍
Much Ado About Nothing 👫😡👰 – Beatrice and Benedick are the best!
A Midsummer Night's Dream 🌲🐴🎭 – The play within the play is the best thing ever! 😁
The Merchant of Venice 🗃💰👩🏻‍⚖️ – Can I just mention how much I love Shylock, Portia, and Antonio? 😊
(DISCLAIMER: Personally, I read Shylock as the tragic hero of this story and thought the play did a great job of addressing how unfairly Jews were treated in Europe at the time. However, I am aware that it can also be read in a very antisemitic context (to be honest, the way Shylock's character can be interpreted is extremely dependent on how this play is staged), so I do think this play has problematic aspects that you should definitely be aware of when going into it. )
Twelfth Night ⛵👦👦 – Hilarious, and Viola rocks!
Othello 🟢👁️😈– Absolutely amazing! Iago is the worst, and Othello and Desdemona did not deserve this! If you want to understand the horrible consequences of jealousy and racism, this is not a bad place to look. (I know that was three sentences, but I think I can bend the rules a little for my favorite Shakespeare play 😉)
---
So anyway, that's it for today!
Have you read or seen any of these plays? And if yes, what did you think of them? I would love to hear your thoughts in the comments!