Hi everyone!
Emer over at A Little Haze Book Blog nominated me for the Liebster Award a while ago, so I thought it was high time I got around to answering her questions! Thank you so much, Emer! 😊 A piece of advice to everyone else: If you aren't already following her, you're missing out on some pretty amazing posts…
What is The Liebster Award?
"The Liebster Award is an award that exists only on the internet and is given to bloggers by other bloggers. The earliest case of the award goes as far back as 2011. Liebster in German means sweetest, kindest, nicest, dearest, beloved, lovely, kind, pleasant, valued, cute, endearing, and welcome."
I copied this from The Global Aussie's page, and the information seems pretty trustworthy 😉 – I can certainly confirm the bit about the meaning of liebster. I do want to add that this is the masculine form of this adjective, but since Blog is a masculine German noun, that should work universally, right?
Rules:
Say thank you to the person who has nominated you for the Award.
Answer the 11 questions the person has asked you
Nominate 11 people
Ask the people who you have nominated 11 questions
---
Questions from Emer:
1. What's the silliest book you've ever read?
I could steal Emer's answer here and go with The Hitchhiker's Guide to the Galaxy by Douglas Adams, but since I didn't particularly like that book, I'm also going to mention two different ones that I did!
The first is Allen Kurzweil's Leon and the Spitting Image, a middle-grade novel that I adore. Leon lives in a shabby hotel that takes the guests no one else will, he collects taxi-driver-countries, has to sew lots of stuffed animals for school, and his greatest enemy is an ice-machine. Trust me, it's great!
And second, I could go with anything by Sven Nordqvist, a Swedish children's book author and illustrator whom I absolutely love. His silliest book has got to be The Hat Hunt, though. If you're interested, the original Swedish title is Hattjakten, and I read the German translation called Die Verrückte Hutjagd – can you tell that these languages are all related? Anyway, this picture book follows an old man looking for his hat together with a giant rabbit. What's not to like?
---
2. What's your favorite smell in the whole world?
I absolutely love the smell of the beach! The salt, the tang of seaweed, the water, the sand, the wind… 😍 I spent a large part of my childhood in Florida, and apart from my friends, the beach is probably what I miss most.
---
3. If you could be any part of a book, what would it be and why? (E.g. the cover, the epigraph, the blurb, the paper of the pages, etc.!)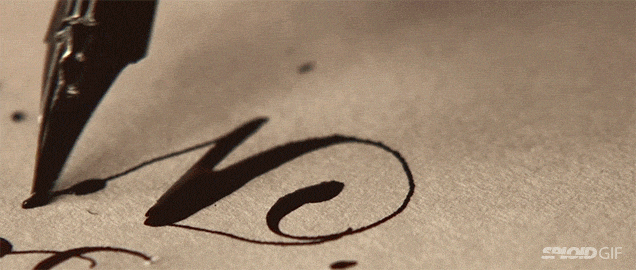 I think I would want to be the ink! Because that's what makes up the actual story, and I want my life to be interesting and full of adventure!
---
4. Pair your favorite character with a snack/beverage!
I have lots of favorite characters, but the one I've chosen to go with for this question is Skye from The Penderwicks! And, for obvious reasons, I'm going to pair her with gingerbread.
---
5. What song always reminds you of a character or book?
I don't really connect songs to books, unless they are explicitly mentioned in the book or part of the movie score for an adaptation. I didn't want to be that basic, though, so I decided to give this some thought – and I think I've come up with a pairing that works! In my opinion, Reinhard Mey's Das Narrenschiff goes really well with Scythe by Neal Shusterman.
Das Narrenschiff is a German song about a ship steering towards destruction, but anyone with a few interpreting skills can tell that it is really about something else entirely. Due to the current political climate, I've been thinking about the song a lot recently, and I think the scythedom could probably have benefited from taking a few lessons from it, too (particularly with regard to Scythe Goddard).
Anyway, if you'd like to listen to the song, you can go do that here. (I was actually pretty excited when I found a video that included an English translation of the lyrics – until I read them. Let's just say this clip is a prime example of why you shouldn't blindly trust google translate… If you'd like a translation of the lyrics that you can actually understand, you can find a pretty decent one in the video's comments or have a look at this one 😉 )
Oh, and read Scythe if you haven't already! It is the start to an amazing dystopian series in which humanity has technically eradicated death, which is why so-called scythes have been tasked with killing people in order to keep the population in check.
---
6. What book did you first discover through a screen/stage adaptation, that is now one of your favorite reads?
The Martian! I adore this book; it's so nerdy and absolutely hilarious! I first saw this movie with my brother and a friend (and almost fainted when Mark operated on himself), and immediately afterwards I got the book because I loved the movie so much. I don't know why it hadn't been on my radar before then…
---
7. Translate the title of your favorite book into emojis! Or even a gifset!
I hope you were able to decipher that as Harry Potter and the Order of the Phoenix.
And just to make things clear – I do not, in any way, support the statements J.K. Rowling has recently been making regarding the trans community. I think she has done a great deal of harm (if you're unsure as to why and think that her essay actually sounds kind of convincing, I highly encourage you to watch this video), and I am incredibly disappointed that a person I used to aspire to be like is using her extremely influential voice to hurt people already facing a lot of discrimination.
However, I can never cut Harry Potter out of my life – it's part of who I am, and no other book has even come close to impacting me as much as this series has. No matter what J.K. Rowling does, Harry Potter will probably always remain my favorite thing in the world.
---
8. If you were to create your own bookish box, what book/merch/fandoms would you include?
You know what would be really cool? A fairy-tale-box inspired by stories from all around the world! Let's make this international!
Obviously, the most important thing in a bookish box is an actual book, so I would like to include an anthology of traditional stories from across the globe. If you live in a different country, let me know which ones you would pick to represent it! For Germany, I think I'll go with Allerleirauh and Godfather Death. I get the feeling that these Grimm's fairy tales are not that well-known outside of Germany (probably because Disney couldn't find a way to make them undisturbing enough 😁), but they're among my personal favorites.
And because I'm a strong believer in merch actually being useful, I would also include the following things:
A deck of playing cards with illustrations from the different stories on them. I love card games!
One of those painted enamel mugs – I have always wanted one! I will leave it up to the artist which fairy tale(s) they want to depict 😉
A box of gingerbread from Nuremberg. Food is definitely an essential; I love eating while reading! And in Nuremberg, they have these gingerbread-house-inspired boxes that I never buy when I'm at the Christmas market, because they are way more expensive than broken leftovers (which taste just as good)… But if I had a successful book box company, maybe the gingerbread-people would be willing to strike a deal with me?
---
9. Do you prefer to read totally offline or do you like to have Goodreads etc. open so you can post updates while you read?
Offline all the way! Seriously, how would I be able to concentrate on reading otherwise? I actually only use Goodreads to keep track of what I read and when I read it, I don't even post my reviews there. I do want to get better at that, though – it's one of my post-exam resolutions 😁
---
10. Have you ever dressed up as a book character, and if so, which was your favorite to do?
Of course I have! Pretty much half of my childhood costumes were based on books 😉 Although, to be more precise, I didn't usually dress up as specific characters, but as a random someone who would fit within the world of a book I loved… I just wanted to be part of these worlds myself!
Here are a few highlights:
Left: 5-year-old me dressed as a squirrel for Fasching (German carnival) – this costume was inspired by Huschkusch from Jakob Streit's Tatatuck. Most people did not recognize what I was supposed to be, which is just RUDE if you ask me.
Middle: I guess 9-year-old me was still a little young to be attending Hogwarts, but that didn't stop me! And I was definitely very opinionated. It absolutely infuriated me that the movies had changed the school robes to show what house students belonged in – that added a bunch of plot holes, especially in Chamber of Secrets, which was my favorite book back then. However, even I couldn't deny that the house crests looked kind of cool, so I decided it might not be completely blasphemous to add a Hogwarts crest instead… I spent hours working on that, and to this day, this costume remains my favorite. I've lost track of how many times I actually wore it.
Right: 11-year-old me was obsessed with westward expansion and the pioneers, largely due to Laura Ingalls Wilder's Little House series. I absolutely devoured those and checked them out from the library so often that my parents eventually took pity on the other kids who wanted to read them and got me my own boxed set. So obviously, when we had to do a practical project on the pilgrims for history class, I convinced the friend I was doing it with that we needed to sew costumes for the presentation. After all, a pilgrim costume can easily serve as a pioneer costume, too… We were very determined, and although my mom helped us a little (I think she was scared we would destroy the sewing machine), we actually did a lot of the work ourselves. And after the project was done, I obviously wore this costume everywhere 😁
Also, don't ask why I'm not smiling in any of these pictures. It was probably for the better, because I don't even need a costume when I smile – the resulting pictures scream "deranged serial killer" all by themselves…
---
11. Have you ever named your pet/toys/children/spouse after a book character?
I have not. But I originally wanted to name my pet cat Soren, from Kathryn Lasky's The Guardians of Ga'Hoole series. However, the rest of my family said it was a stupid name (IT IS NOT!!) and vetoed it, so now his name is Jaro. And it suits him perfectly, so that's okay 🙂
---
Anyway, that was it for this tag! Thanks again, Emer, for nominating me, and I hope you enjoyed my answers!
I nominate the following wonderful bloggers – Whom you should definitely check out! – to also receive this award:
If you don't want to do this, though, that's totally fine! I know tags aren't everyone's cup of tea 😉 Or if you do, but want to nominate less than eleven people, that's fine, too. Bend the rules and go with whatever option works for you!
---
My eleven questions for those tagged:
What is a trope you can't help but love, even though it's overused?
Describe your perfect quarantine day!
If you could have any fictional pet, what would you choose?
What is your favorite and least favorite thing about blogging?
If you were stranded on a deserted island all alone, which fictional character and which author would you choose to join you and why?
Describe your favorite book using emojis or GIFs, but don't tell us what it is. Let's see if someone can guess it in the comments!
If you could have any character from a book teach you one skill, what would you learn and who would be your mentor?
Have you ever dressed up as a character from a book?
What book are you proudest of forcing on other people? (For their own good, of course…)
What is your favorite blog post that you've ever written and why?
Which post that someone else wrote have you enjoyed recently?
---
I hope you had fun reading, and feel free to let me know some of your answers to these questions in the comments!
Also, I will probably be doing that 100-follower Q&A post I promised you sometime in September, so if you still have questions for that, feel free to leave them down below, too!