Happy Friday, everyone!
Truth be told, I've had a horrendous week. I just lost my grandfather, and since everything happened so suddenly, I didn't make it in time to see him before he died. Which means that, to distract myself from dwelling too much on things I am powerless to change, I thought we could have some fun and do a tag related to the one activity that never fails to bring me comfort – reading!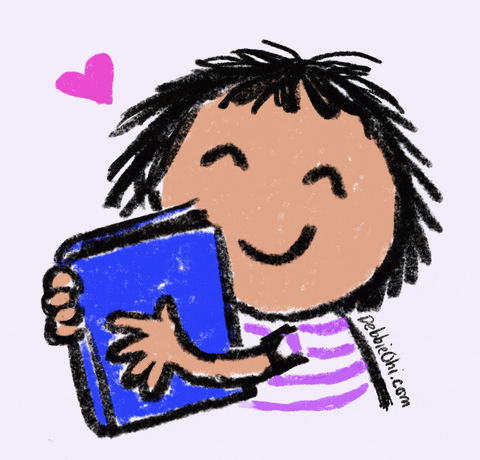 Okay, fine. Basically every tag I do on here is related to reading. But the Currently Reading Book Tag has some particularly fun reading-related questions, and besides, I am not going to be that person who takes over a year to get to their tag backlog. Emily @ Frappes and Fiction tagged me to do this on September 12th, 2020, so what can I say? I'm basically super early 😇 It hasn't even been 365 days yet!
Of course, a huge thanks goes to Emily for tagging me and also to Charly Ray over on BookTube for coming up with the questions – even if I am just a tad late to the party, I know I'm going to have a fun answering these! Because what better way is there to out all of my controversial reading habits? 😁
---
How many books do you usually read at once?
Easy answer: ONE!!! Duh. Like, why would you read multiple books at once?! How could you ever fully immerse yourself in a story if you keep switching to different ones?!
Says the person who is literally currently reading two books at once 😁 So if you want the complicated answer, here is my list of exceptions for when you are allowed to read multiple books at once:
1. One of the books is a reread. You are allowed to reread passages of old favorites while simultaneously exploring new worlds, because a) it's not that distracting if you already know what's going to happen, and b) sometimes you just need one of those old favorites, okay?
2. One of the books is an audiobook and the other is a physical copy or e-book. Listening to a book is not the same thing as staring at one with your eyes, so these things are obviously sufficiently different that you can justify doing them quasi-simultaneously. Like, I need my audiobooks for long car rides and walks in the woods! And it's not like I'm going to refrain from reading anything else in between those.
3. One of the books is in a foreign language. This happens to be my current excuse. You don't want to overwhelm yourself! Sure, Le Petit Nicolas is actually pretty easy to read, but I want to spread out that French practice and read a bit every day!
4. One of the books is a highly anticipated new release. If you think I'm not going to drop whatever else I'm currently in the middle of the minute Doors of Stone comes out, you clearly don't know me at all.
5. One of the books is required reading for school and sucks so much that you'd never be able to motivate yourself to read another word of this crap if you didn't also get some quality literature time in. I think this one is pretty self-explanatory.
---
How do you decide when to switch between multiple reads?
Source: https://i.redd.it/dbvhodxjsv041.png
Well… I obviously switch over to audiobooks when I'm doing something that makes physical reading a bit difficult. Like driving. Or walking. Or cleaning.
Other than that, I do it so rarely that I couldn't really say. I guess it's usually an emotional decision?
Trust me, I swore I wouldn't pick up Words of Radiance until I'd written at least twenty pages of my thesis, but I kept seeing it on my bedside table, looking so interesting… And then I desperately needed something familiar and comforting, and thus, I succumbed to temptation.
(And now I hate you, Brandon Sanderson! How could you make me love a character this much and then brutally kill them off?? 😭😭😭 I have enough death in my real life right now, I was not emotionally ready for this!!! Although I'm falling more in love with The Stormlight Archive with every word I read, so I might be willing to forgive you… Maybe.)
---
Do you ever switch bookmarks partway through a book?
Nope. I rarely ever use bookmarks, so if, by some miracle, I do decide to not just go with memorizing page numbers, I'm definitely not also going to be un-lazy enough to go grab a second bookmark 😂
---
Where do you keep the book you're currently reading?
Source: https://www.pinterest.ca/pin/528117493802598472/
If it's a physical book
on my nightstand if I'm at my parent's place,
on the floor next to my bed if I'm at my apartment and it's nighttime (I do not have a nightstand there and am NOT getting out of bed again to put the book away 😜),
on my desk if I'm at my apartment and it's daytime,
and on my phone if it's an e-book or audiobook.
---
What time of day do you read the most?
At night, after about 8 p.m. It's horribly detrimental to my sleep schedule, but I just have so much work to do for university during the day that picking up a book earlier is incredibly dangerous. They kind of have a tendency to be very distracting…
---
How long do you typically read in one session?
Source: quickmeme.com
Usually at least half an hour, but more typically, one or two. Or three or four… Maybe five… It depends on the book, how long it takes me to finish it, and how bad my conscience gets about neglecting sleep 😂
---
Do you read hardcovers with the dust jacket on or off?
With the dust jacket on, obviously. Why would you take them off?? I was so astounded when I first heard that people did this. The flaps are such convenient bookmarks that even us page-number-memorizers have a hard time resisting!
---
What position do you mainly use to read?
Source: https://www.xdpedia.com/picture/2969/what_position_to_read_a_book.html
Draped across my bed, sitting on my bed, leaning against the wall behind my bed – preferably against my big Hogwarts pillow, lying in bed…
As long as it's in bed, it's a good reading position!
---
Do you take your current read with you everywhere you go?
No. I drag my books to loads of places, but not everywhere. University, for example, is usually off limits, because like I said, books can be very distracting!
Well, I do tend to have my phone on me when I go to places, so if you count e-books, I guess yes?
---
How often do you update your Goodreads reading progress?
Basically never? 😅 I add a book when I start reading it, and then I come back to rate it sometime after I've finished it. That's literally it. Sometimes, I'll even skip the adding-it-when-I-started-reading part, although I have gotten a bit better at that since I included the currently reading section on my blog.
---
Who would you like to tag?
Anyone who would like to do this!
I'm so late in getting to this that I feel like lots of people will probably have done it by now… But if you haven't and would like to, consider yourself tagged!
---
And that was it for today! I hope you learned something interesting about all my weird reading habits, and don't hesitate to share yours with me as well! What is your favorite reading spot? Do you read multiple books at once or take the dust jackets off books when you read them? I would love to know!