Since I already posted my list of favorites, I bet you're not that surprised to now be getting my least favorite books of the year 😉 Thankfully, I actually didn't read that many books I didn't like this year, so this is going to be a rather short list.
Like last year, I'll be starting with my least favorite books, i.e. the ones I genuinely didn't like, and then give you a few that I enjoyed but was still disappointed by because I thought they really didn't live up to their potential. As always, I tend to forget a lot of details about books I didn't like, so if you want further thoughts on any of them, check out my reviews in either my monthly wrap-ups or my full reviews if I have any – in either case, I've linked them for you 😉
---
🙄 Part One: My Least Favorite Books of 2018 🙄
---
#1 Tinkers by Paul Harding
The thing that sticks out most about this book is how utterly bored I was reading it. Yes, the writing may have been lyrical, but the story, in my opinion, was one of the best ways to put someone to sleep that I've ever come across. Basically, this follows a man named George Washington Crosby (and yes, I had to look that up because I no longer remembered his name) as he lays dying on his bed and remembers the story of his life and that of his father.
Since this won the Pulitzer Prize, I guess there's something meritable about it, but I just didn't see it – I absolutely hated this book and almost ended up DNFing it, even though it was extremely short. For more of my thoughts, check out my August wrap-up.
---
#2 Absalom, Absalom by William Faulkner
All you Faulkner-lovers out there are probably going to be mad at me for hating this as much as I did – yes, yes, I guess I'm just unable to appreciate the brilliance of his unique writing style and the way he managed to write a truly American novel. I'm disappointed myself, so don't be mad at me! One of my favorite professors recommended this to me, so I already feel bad enough about not enjoying it.
It's just – the way it was written made it absolutely tedious to read, the first chapter already spoiled the entire story, and all the characters were utterly unlikeable. From a literary and historical perspective, it did bring up a few interesting points, though, which is why it was still able to beat the awfulness that was Tinkers. If anyone wants to know more of my thoughts as to why I didn't enjoy it and what I did like about it, check out my full review.
---
#3 Die Spur der Bücher by Kai Meyer
Yup, a German book also made the list again this year and if any of you read my January wrap-up, you probably won't be surprised. Part of my dislike for this book might also just be due to me feeling extremely let down. The author had been recommended to me on several occasions, the magic system, which is centered on books, sounded amazing, it is set in Victorian London – and I absolutely did not enjoy it. It was extremely predictable, dragged on for ages in the beginning, and I couldn't connect to the characters. Overall, this just wasn't for me.
---
#4 Morning Star by Pierce Brown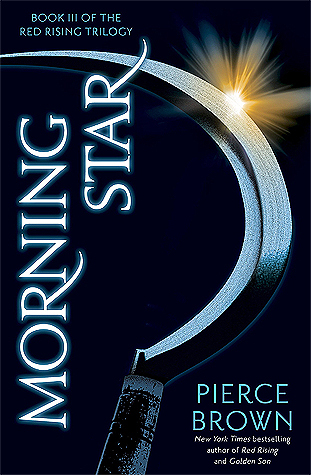 Is anyone really surprised this book made the list? Considering how much I disliked Golden Son, it's a miracle I finally ended up reading this.
And although I did like it more than Golden Son, I didn't think it was great, either. The characters felt utterly flat and stereotypical, and especially from Darrow, it was as if we didn't get any depth at all. I did like that this book had a lot of political scope, but frankly, that just wasn't enough to keep me invested.
However, so many people love it that I really think it's just me here, so feel free to give the series a go if it sounds interesting to you. For me, though, I can pretty safely say that my Howler journey has ended here. Having completed the original series (and all the books by Pierce Brown that I own), I feel as if I've given it enough of a chance and won't be reading Iron Gold. Sorry, not sorry. (A more in-depth review can be found in my August wrap-up).
---
#5 The Hitchhiker's Guide to the Galaxy Series by Douglas Adams
Oh, I can already feel the disappointment here… I'm really sorry! I know this series is very well loved and I did think it was amusing – for the first few chapters of the first book. After that, the humor just didn't do it for me anymore. Sure, the jokes were funny, but this series relies entirely upon humor to make its absolutely absurd plot intriguing, and for me, that just wasn't enough and left me feeling extremely bored after the initial newness of the writing style had worn off.
I ended up DNFing this series, and I can't say I feel particularly bad about it. Go ahead and love this if you want to, but it just wasn't really my thing. (Reviews can be found in my February and March wrap-ups.)
---
So yeah – those were all the books I really didn't like in 2018. Now, let's get into my most disappointing books of the year – the ones that I didn't think were terrible, but could have been so much better:
---
🙄 Part Two: My Most Disappointing Books of 2018 🙄
---
#1 Fantastic Beasts: The Crimes of Grindelwald by J.K. Rowling
I already mentioned in my review that I did kind of enjoy myself watching this movie and reading the screenplay. Still, that doesn't take away from my disappointment and the more I think about it, the more bitter I am about how certain things were handled. It's not as bad as it was in Cursed Child, but this still felt extremely sloppy to me, not at all what I've come to expect from J.K. Rowling. We barely got enough time with any of the main characters, and it seemed like logic and continuity were thrown overboard in order to give fans as many Harry Potter references as possible. Personally, I'm not a big fan, but I do still have hope that maybe J.K. Rowling does have some larger plan that will make things make sense in the later movies…
---
#2 Nevermore: The Trials of Morrigan Crow by Jessica Townsend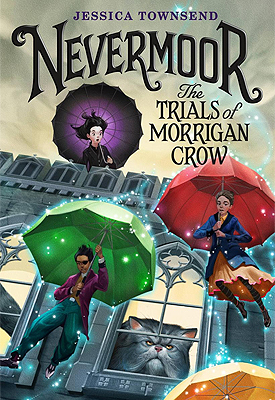 I was so excited to read this because I love myself a good magical middle-grade book. And this one was getting raving reviews – people were saying it reminded them of Eva Ibbotson's writing, of Percy Jackson, even Harry Potter, all of which I adore. The premise was pretty intriguing, too – a cursed child, bringing bad luck to everyone around her? It sounded right up my alley.
Unfortunately, it wasn't. I did enjoy the setting, but in my opinion, the rest could have been executed so much better. The main character Morrigan never handled anything by herself, she just relied on other characters to swoop in and help whenever she needed it, which made for a boring plot where an exciting one would easily have been possible. I also found this to be very predictable – I guessed the main plot twist several chapters in, which is not necessarily bad per se, but again, in addition with the lack of character agency, just made this very non-suspenseful. For more thoughts, check out my March wrap-up.
---
#3 Children of Blood and Bone by Tomi Adeyemi
This is yet another incredibly hyped book that just didn't do it for me. Maybe it's because the hype got to me and my expectations were just way too high… But then again, I genuinely think this book could have been so much better than it was.
Mainly, I thought that the writing could have done with a lot of cutting and that the characters could have acted much more consistently and realistically. Inan flip-flopped around like nobody's business and even with the main character Zélie, I sometimes felt that her backstory and actions contradicted each other. The African setting and magic system were pretty cool, yes, but other than that, this felt like a YA book I'd read a million times before. After all the praise this was getting, I was genuinely let down. If you want more detailed explanations as to why, feel free to have a look at my review.
---
#4 Leah on the Offbeat by Becky Albertalli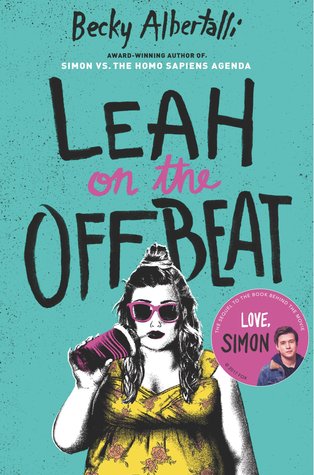 I loved Simon vs. the Homo Sapiens Agenda, and in that book, one of the characters I particularly liked and identified with was Leah. That's why, despite also being rather disappointed by The Upside of Unrequited, I was really looking forward to reading Becky Albertalli's newest release.
Unfortunately, I had pretty much the same issues with it as with The Upside of Unrequited. I felt as though all the story had become about was having diverse characters, with little plot to show otherwise. I would have loved to see more intricate explorations of the friend and family relationships portrayed here, but that was shunted to the side in order to force the romance plot into our faces. Plus, the way that this plot was executed really seemed to contradict some of the traits we had come to know about Leah in Simon.
All in all, I thought this was a quick read that was enjoyable while I was reading it, but nothing deep that made me think or feel anything much. And the more I think about it, the less memorable it really was… Anyway, for more thoughts, see my July wrap-up.
---
#5 The Bone Witch by Rin Chupeco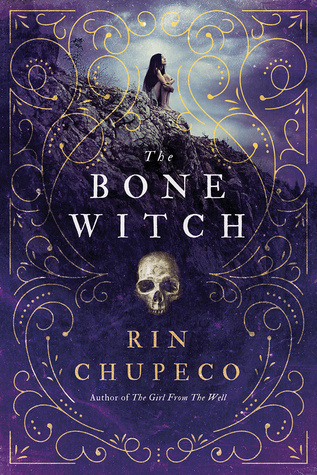 This book had everything I normally like – a unique magic system, a setting that I hadn't seen done many times before (this is an Asian inspired fantasy), a bit of darkness (I mean, the main character is a necromancer…), a character we get to accompany as they grow up.
However, until the last hundred pages or so, this book had me bored to tears. Nothing happened! It was just intricate descriptions of how every insignificant accessory looked (and this is saying something, since I'm normally a huge fan of pretty, detailed writing), Tea whining around while she was cooking and cleaning, and a whole bunch of other boringness.
Which is such a pity, because the world was actually quite neat and if everything had been written like the ending was, I think this might actually have become one of my new favorite fantasies… Maybe the rest of the series will be better though – this book had a very set-up-the-world kind of feel to it. For more thoughts, see my August wrap-up.
---
And there you have it – the books I didn't like or was disappointed by last year. Do you agree on any of these? And where do you disagree? I know I bashed some pretty popular books here, so I'd be quite surprised if everyone had the same opinions as me 😉