Is it a good or a bad thing that I feel a bit guilty about reading so much in December when I had tons of other stuff I should have been doing? I mean, I guess I still did work pretty hard – I got one of my term papers out of the way, did all my math homework and corrected tons of math papers, planned the tutorial I had to do for number theory, studied lots of psychology… You get the picture.
Still, there's a lot of psychology left that I didn't manage to do, which makes me feel very uneasy now that January is here and I only have one month left until my exam. But then again, December is my birthday month and then there's Christmas, and I got so many exciting books that I was itching to read… There are still a couple left on my bedside table, but overall, I'm actually quite happy with my December reading. Here are the eleven books I read last month:
---
---
The Darkest Minds and Never Fade (The Darkest Minds #1-2) by Alexandra Bracken (both 3/5 Stars)
I'm a bit late jumping on the bandwagon here, since these books were very popular a while ago, but after seeing the trailer for the movie, I actually got more interested in reading this series again and finally decided to give it a try.
The Darkest Minds follows a girl called Ruby, who belongs to the few children who survived a dangerous epidemic and now possess uncanny abilities. Ruby's life takes a sudden turn when she is rescued from the "rehabilitation" camp the government has placed her in and finds herself on the run with a group of other kids like her, fighting for their rights and survival.
Overall, I thought these books were the start to a pretty average YA dystopian series. I had fun reading them, but I didn't think they were anything special, either. I liked the characters, but I found the plot to be a bit predictable and contrived at times, as well as similar to many things I'd seen before. I think I probably would have liked these a lot more when I was about 16 or so and at the height of my dystopian phase, but now I just thought they didn't stand out much and made for an enjoyable, but average read.
---
Night Film by Marisha Pessl (3.5/5 Stars)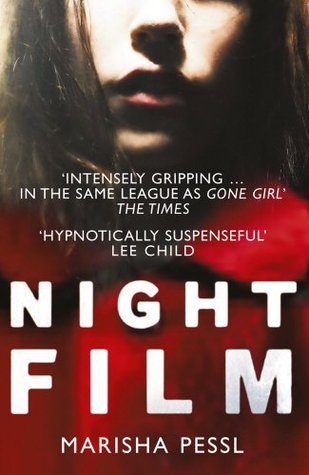 Night Film was a book that had me hooked from the start. The main character is an investigative journalist named Scott McGrath, whose career was ruined when he made some serious accusations against the famous film director Stanislas Cordova without any evidence to back up his claims. Scott thought he had put Cordova behind him, but when the body of Cordova's daughter Ashley is found in a Manhattan warehouse, he immediately suspects that it was not, as the police think, a suicide, but something more sinister. With the aid of some newly made friends, Scott starts to investigate…
Night Film was extremely suspenseful, excellently written, and I also enjoyed that there were extra snippets like case files, photographs, newspaper clippings to add another layer to the story. The first 500 pages or so, I thought this was going to be a five-star read for me.
Unfortunately, though, the ending was a pretty big let-down for me. With all the suspense the book had been building, I expected the resolution to mirror the rest of the story, but for me, that just wasn't the case. I felt as though the author had been unable to come up with a really convincing explanation to everything that had been going on, which made some of the earlier events seem slightly over the top in light of the actual resolution. That might just be personal taste though, so if you're looking for a well-written thriller, this one might still be worth a try.
---
These Broken Stars (Starbound #1) by Amie Kaufman and Meagan Spooner (3.5/5 Stars)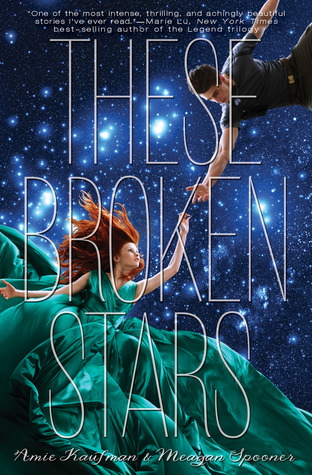 These Broken Stars is the perfect book to read when you have tons of work on your plate and just need something fun and relaxing.
This is a young adult science-fiction novel following two characters: Lilac, the daughter of one of the richest business owners in the universe, and Tarver, a decorated soldier from a poor background. Lilac and Tarver's social circles are not supposed to cross, but one day, when disaster strikes the Icarus, the luxury spaceship they are travelling on, and the two of them crash land on an unknown planet, they are forced to work together to survive.
I thought this book had an excellent hate to love relationship and a compelling plot, even if it was a bit predictable at times. Like I said, it's perfect if you're looking for an easy, fun read to help you destress.
---
Everything I Never Told You by Celeste Ng (5/5 Stars)
I already loved Celeste Ng's Little Fires Everywhere, but oh boy, Everything I Never Told You was, in my opinion, even better. I absolutely adored this book – it had beautiful writing, a compelling story, utterly real and relatable characters; it explored some pretty heavy but important topics, made me think a ton, and was everything I didn't know I needed.
The story follows the Lees, a Chinese-American family living in small-town Ohio, after their middle child Lydia is found dead in the local lake. Each family member deals differently with the tragedy and while they try to come to terms with Lydia's death, they learn that there was a lot about their daughter/sister they didn't know.
The story explores family relationships, dreams and aspirations, prejudice and so much more in such a realistic manner, alternating between the present and flashbacks explaining each of the family members' past. It is sooo, sooo good! If you haven't already, read it!
---
Last Night in Montreal by Emily St. John Mandel (3/5 Stars)
Last Night in Montreal is a book centered around the character Lilia, who, as long as she can remember, has always been leaving. It follows her former boyfriend Eli, who has been trying to find her ever since she suddenly left their New York apartment and never came back. It follows a private detective who has been trying to find her since her childhood, neglecting his own family in the process. It follows a young Lilia on the run with her father, who kidnapped her when she was just a child.
As the book goes on, you slowly piece together how all the character's stories intertwine, why Lilia's father took her away that fateful day, and what letting go truly means. It was a well-written and compelling story, but sometimes I did find myself drifting off while reading and it wasn't anything that really stuck in my mind, which is why I gave it an average three-star rating.
---
Kneeknock Rise by Natalie Babbitt (3/5 Stars)
Kneeknock Rise is a children's book about a boy named Egan, who goes to visit his aunt and uncle in the small town of Instep. Egan is fascinated by Kneeknock Rise, a small mountain overshadowing the town, and the stories surrounding the evil Megrimum that lives there.
The book has very lyrical writing and explores what fables and stories mean to the ones growing up with them, and I think it would be a very fun book to read aloud to younger kids, especially since it is very short. As an older reader, though, I did think it was extremely predictable and had a very similar feel to certain fairy tales and fables I already knew and liked much more, which is why I personally didn't enjoy the book as much now. I think I would have really liked it as a kid though – it's the kind of story you'd want your grandparents to tell you on a rainy day 😉
---
The Seven Husbands of Evelyn Hugo by Taylor Jenkins Reid (5/5 Stars)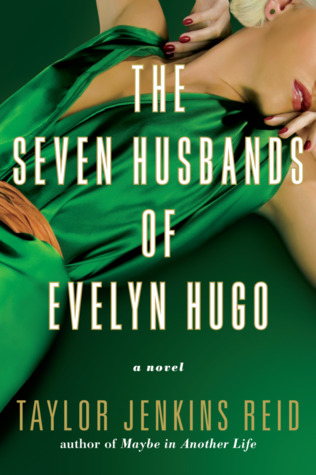 The Seven Husbands of Evelyn Hugo has been getting a ton of hype lately, and let me just say: it is 100% justified. After The Storied Life of A.J. Fikry and If We Were Villains, this is probably my favorite book of the year, and I'm so glad I decided to pick it up because I must admit, I was a bit skeptical at first. I knew the book was about a Hollywood starlet who became popular in the 1950s, and, to be honest, neither Hollywood nor the 1950s are subjects I'm particularly interested in. But boy, was I wrong. After starting it, I could not put this book down, and it has certainly been a long time since I've been as invested in a fictional character's life as I was in Evelyn Hugo's.
The book follows a young magazine reporter named Monique Grant who, to everyone's surprise, is offered the opportunity to interview Evelyn Hugo, one of the biggest Hollywood stars of all time, infamous for her many failed marriages. Monique soon learns, however, that the interview is a farce: what Evelyn is actually offering her is something a young writer can only dream of: the chance to write Evelyn's biography. During their meetings, Monique is let in on the story of Evelyn's life, gets to know each of Evelyn's husbands, and is let in on secrets Evelyn has been keeping her entire life.
This book was nothing like I expected, absolutely gripping, it has wonderfully real and complex characters, and probably the best bisexual representation I have ever read about. If you haven't already, do yourself a favor and pick this up!
---
The Crown of Embers (Girl of Fire and Thorns #2) by Rae Carson (4/5 Stars)
It took me forever to continue on with this series because, while I thought The Girl of Fire and Thorns was pretty decent, it also didn't really amaze me either.
This second book, however, was much better than the first, in my opinion. I can't say much without spoiling The Girl of Fire and Thorns, but let me just say this: this installment of Rae Carson's Latin America – inspired fantasy series gets a lot more political than the first, and it has one of the best developed romantic relationships that I've read in YA for a while now. (Honestly, I think the love story was one of the biggest reasons this book gripped me as much as it did…)
I'm definitely more keen on continuing on than I was after the first book, and I really hope the third book convinces me as much, if not more, as this one did!
---
The Lola Quartet by Emily St. John Mandel (3/5 Stars)
With The Lola Quartet, I finally finished my goal of reading all of Emily St. John Mandel's currently published novels, which I had wanted to ever since I loved and adored Station Eleven and met the author in person last year.
The Lola Quartet is comprised of four members: Gavin, Jack, Daniel, and Sasha, who loved performing music together when they were in high school but have since taken very different paths. One day, however, Gavin, a journalist, is back in his hometown to research a story he is working on. There, he comes across a young girl who looks uncannily like his sister and shares the surname of his ex-girlfriend Anna, who left on the night of the Lola Quartet's last concert and never returned. Suddenly, Gavin is consumed by the need to find out what happened to Anna, not knowing that he and the other members of the Lola Quartet are involving themselves in more dangerous business than they bargained for.
Overall, The Lola Quartet was a solid, well-written book, but it didn't particularly really stick out to me, either. I enjoyed the way the character relationships were explored, but as a thriller, I didn't find it all that suspenseful, which made it a pretty average novel for me.
---
Sounder by William H. Armstrong (3/5 Stars)
Sounder is a historical-fiction children's book told from the perspective of a young African American boy whose father is taken to prison and sentenced to labor camp after stealing food from a local store. The story follows the boy growing up: how he tries to be there for his family and his family's dog, Sounder, who was shot on the night his father was arrested. It's about how the boy develops a fascination for books and reading, and how he eventually tries to find his father.
I think this novel is especially suitable for elementary school students, something I think I would have loved to have a teacher read to me when I was in second or third grade. It teaches children about discrimination, poverty, the loyalty of animals, the importance of reading, and is just a sad, but heartwarming, story.
---
Anyway, that's everything I read in December. A very happy New Year to you all!