You can really tell that university started again – my reading basically went from a ton in the first half of the month to almost nothing in the latter. Still, I managed to read eight books in total, so here are my thoughts:
---
---
The Refugees by Viet Thanh Nguyen (4/5 Stars)
This is a collection containing eight short stories about refugees who fled to the United States during the Vietnam War. Not all stories follow the refugees directly and not all of them focus on the war, but it's a common theme that is always there in the background, creating a very nuanced portrait of the subject. However, the book explores so much more: family, growing-up, cultural ties, and so forth.
I enjoyed all the stories, but I did have my favorites. "The Americans", in my eyes, was the best story by far, and I also really liked "Black-Eyed Women" and "Someone Else Besides You". I'd recommend this to anyone who likes short stories, does not shy away from heavier topics, and would like to learn more about Vietnam, its people, the Vietnam War, and its impact on the US.
---
Der Dieb von Rom by Harald Parigger (2.5/5 Stars)
(This book has not been translated into English – my translation of the title: The Thief of Rome)
This is a German historical fiction young adult novel following 15-year old Marius, whose family moves to Rome after being evicted from their farm. Marius is furious about having lost his land to some rich Roman patron and hates his new home, so he vows to win back what is rightfully his. With the help of his family's slave Alexios and the gladiator Marcellus, Marius trains to be a thief, to take from the rich what they do not deserve. By doing so, he gets more involved in Roman politics than he initially bargained for.
On my part, I thought that the idea behind the book sounded pretty cool, but I didn't really enjoy the way it was executed. The story was extremely predictable, the romance was terribly insta-lovey, there were barely any female characters, and those that were present showed next to no initiative, and whenever details about Rome were dropped, it felt like the author had only included them as a learning experience for his readers. I hope you get what I mean by this last point – sometimes this read as a textbook disguised as a story, if that makes any sense. The book wasn't terrible, and I think kids might enjoy it while simultaneously learning more about ancient Rome, but it could easily have been a lot better.
---
Rivers of London (Peter Grant #1) by Ben Aaronovitch (3.5/5 Stars)
This is the story of Peter Grant, a police officer in training who learns that magic is, in fact, real. After a ghost tells him about the details of a murder, Peter discovers that the London police force has its own special division tasked with dealing with the supernatural. Peter is apprenticed to Chief Inspector Thomas Nightingale, and while the two of them work together with the rest of the London Metropolitan Police to solve a series of brutal crimes, Peter learns to execute his first spells.
I absolutely adored the first half of this book – Peter is funny, his relationship to Lesley is interesting, the mystery surrounding Nightingale and the case the police is working on are compelling, and the magic system and Peter's new home are unique and intriguing. It was also really refreshing to have a mixed-race main character for a change, since I don't really see too much of that in fiction. Anyway, based on the first half alone, this would easily have been a five-star read.
However, the second half of the book was a bit of a jumble. About a million random things started happening at once, so that the focus was shifted away from the characters to lots of action without any deeper meaning. I didn't find the clashes between the different London river gods very compelling, either, and that aspect of the story became much more important in the second half of the book.
Overall, I still really enjoyed this, but I think it could have been a lot better if the ending had been less packed and more character driven.
---
To All the Boys I've Loved Before (5/5 Stars), P.S. I Still Love You (4/5 Stars), and Always and Forever, Lara Jean (4/5 Stars) (To All the Boys I've Loved Before #1-3) by Jenny Han
I read Jenny Han's The Summer I Turned Pretty trilogy several years ago and found it pretty average, so I never had any particular interest in trying her other series. However, since the movie was about to come out on Netflix, everyone was suddenly talking about these books again and I decided I might actually give the movie a try. To do that, in true reader-style, I decided I would read the books first. Since my library didn't have them, I ordered the box set from amazon. That was back in August… I almost thought the books had been lost in the mail somewhere, but in October, they finally arrived! And I binge read all of them in one night, staying up until about one o'clock to do so. They had me completely hooked and are the perfect cute contemporary read for anyone looking to de-stress.
The story is about a Korean-American girl called Lara Jean, who deals with having a crush by writing a love letter to the boy she likes. The letters are just for her, to help her come to terms with her feelings, and Lara Jean would never dream of sending them. However, one day, all five of Lara Jean's letters are sent out, and Lara Jean is left to deal with the consequences.
These books are cute, the romance is realistic and adorable, and, what I probably loved most of all, the family dynamics in these books are absolutely wonderful. Lara Jean has two sisters, Margot and Kitty, and her relationship to them plays a big part in the trilogy. Her family felt so real and fleshed out, they had to deal with important life changes, but they were always there for one another.
I highly recommend the trilogy to anyone looking for a cute YA contemporary. The movie, which I have since watched, is also great, although it doesn't quite live up to the book. I'd recommend trying it out 😉
---
Muse of Nightmares (Strange the Dreamer #2) by Laini Taylor (5/5 Stars)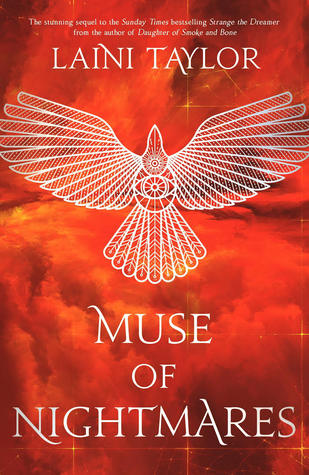 The sequel and conclusion to Strange the Dreamer, Muse of Nightmares was probably my most anticipated read of the second half of 2018. Thankfully, it more than lived up to my expectations. This book had everything I could ever have wanted: Laini Taylors beautifully lyrical writing, a compelling and unique story, tragedy, love – lots and lots of wonderfulness.
The story picks up immediately where Strange the Dreamer left off, but it also adds a second strang to the story: the tale of Nora and Kova, two sisters whose dream changed into a nightmare. Lazlo and Sarai's story intertwines with theirs in a very satisfying way, teaching us so much more about their world. We learn a lot more about the history of Weep and Zeru – we even get a few tidbits that add to what we know from the Daughter of Smoke and Bone trilogy (although you don't need to have read it to enjoy this story). I also absolutely adored Minya's character development. She is definitely one of the most complex and interesting characters I have ever read about, and I loved figuring about more and more about her past and about what drives her.
Overall, this was just a great read in every way. It wrapped up this story beautifully, and I highly recommend picking up this duology.
---
Absalom, Absalom! by William Faulkner (2/5 Stars)
Absalom, Absalom! tells the story of Thomas Sutpen, a plantation owner during the American Civil War, and his family, from a variety of different perspectives.
My thoughts on this book can be summed up very briefly: I thought the idea behind it and the themes explored were interesting, but I detested the writing style so much that it ruined my enjoyment of the book. Sentences often went on for more than a page, making this an extremely dense read that often had me struggling to keep my focus.
If you're interested on my more in-depth thoughts, you can check out my full review. Unfortunately, this just wasn't really my thing.
---
And that was it for my October reads! I hope you also had a good reading month, and do let me know if you've read any of these and what your thoughts on them were!