I handed in my term paper! *Does celebratory dance*. That means I have one weekend before university starts again, which means I can get some blogging and reading done 🙂
Anyway, it's turned pretty cold here in Germany. I have to wear a jacket when I go outside, the leaves are starting to turn yellow, and the woods are filled with mushrooms just waiting to be picked. It's definitely fall here, not only in the scientific sense, so I thought I'd bring you the It's Finally Fall Book Tag today. This tag was created by Alina of the booktube channel Tall Tales, so make sure to check her video out here. Without further ado, let's get into the questions!
---
1. In fall, the air is crisp and clear: name a book with a vivid setting!
If you haven't already read Erin Morgenstern's The Night Circus, you definitely should! This book, set in the late 1800s, is beautifully atmospheric, following a magician rivalry, a travelling circus that performs only at night, and a set of characters you're unlikely to forget. The descriptions are so lush and vivid that you can't help but feel as if you're at Le Cirque des Rêves, experiencing its mysteries and wonders along with the other visitors.
---
2. Nature is beautiful… but also dying: name a book that is beautifully written, but also deals with a heavy topic like loss or grief.
This is yet another well-known book, but trust me, the hype for A Monster Calls by Patrick Ness is justified. It follows a boy named Conor, whose mother is terminally ill. Conor does not know how to act, does not accept his mother's pending death, and lashes out at everyone who wants to be there for him. Then, one night, a monster comes to visit him…
This is a beautifully told and heart-wrenchingly sad tale, and the pictures in the illustrated addition add another layer of atmosphere and meaning. If you're planning on reading this, do yourself a favor and get the illustrated edition – even my library (which almost never has the English books I'd like to read) has a copy, so it shouldn't be hard to obtain 😉
---
3. Fall is back to school season: share a non-fiction book that taught you something new.
My Place is the autobiography and family saga of Sally Morgan, an Australian writer and artist of Aboriginal descent. We learn about Sally's grandmother, a maid who was raped her white farm-owner and heart-broken when her mixed-race child was taken away from her, and Sally's mother, who so was traumatized by the separation that she never told her children about their Aboriginal heritage, in fear that they might be stolen from her, too. Finally, we learn about Sally, who grows from a head-strong young girl to a head-strong young woman and slowly comes to terms with her family's past.
This book taught me so much more about Australian history and the Stolen Generation than I ever managed to learn in a history lesson, and I think it's a very important and insightful read everybody could profit from.
---
4. In order to keep warm, it's good to spend some time with the people we love: name a fictional family/household/friend-group that you'd like to be a part of.
Like any Potterhead, I'd love to be a Weasley, but I think I might want to be a Penderwick even more. The Penderwicks are probably my favorite fictional family of all time and I think I'd fit in so well! I could talk to Skye and Iantha about math and the universe, come up with crazy stories and read a bunch of books with Jane, talk about my troubles with Rosalind and Mr. Penderwick, share my love of music with Batty, my love of science-fiction with Ben, and my family-love with Lydia. If you haven't picked up this wonderful middle-grade series yet, please do! It's one of my favorite series of all time, and I've pushed a ton of people to read it – please be one of them!
---
5. The colorful leaves are piling up on the ground: show us a pile of fall-colored spines!
I hope you appreciate the effort I took here – my bookshelves are organized strictly by genre and author, not color, so this is gonna take a bit of cleaning up! The books featured here are:
Illuminae (Illuminae Files #1) by Amie Kaufman and Jay Kristoff, The Knife of Never Letting Go (Chaos Walking Trilogy #1) by Patrick Ness, Flamecaster (Shattered Realms #1) by Cinda Williams Chima, Wolfspeaker (Immortals Quartet #2) by Tamora Pierce, A Darker Shade of Magic (A Darker Shade of Magic #1), Jane Eyre by Charlotte Brontë, Mockingjay (Hunger Games #3) by Suzanne Collins, Charlie Bone and the Castle of Mirrors (Children of the Red King #4) by Jenny Nimmo, Anne of Avonlea (Anne of Green Gables #2) by L.M. Montgomery, Percy Jackson and the Battle of the Labyrinth (Percy Jackson and the Olympians #4) by Rick Riordan, The Mystery of the Burnt Cottage (Mysteries #1) by Enid Blyton, Simon vs. the Homo Sapiens Agenda by Becky Albertalli, Chomp by Carl Hiaasen, Dreams of Gods and Monsters (Daughter of Smoke and Bone #3) by Laini Taylor, Murder at the Vicarage (Miss Marple #1) by Agatha Christie, Gregor and the Marks of Secret (Underland Chronicles #4) by Suzanne Collins, and Fyre (Septimus Heap #7) by Angie Sage.
---
6. Fall is the perfect time for some storytelling by the fireside: share a book wherein somebody is telling a story.
The Name of the Wind by Patrick Rothfuss is the start to one of my favorite fantasy series out there. This is one of the most beautifully written and fleshed-out books I have ever come across, and it fits this question perfectly, as this is a book set in two timelines. In the present, Kvothe is a broken man running an inn, without any power and hardly any life left in him. One day, a chronicler comes and asks him to tell his life story: of a man brimming with talent in magic, learning, music, and intrigue, of a man who is known as the Kingkiller.
I am still desperately waiting for the last book in this series to come out, so I can finally solve all the remaining mysteries, especially how Kvothe got from where he was to where he is now. To anyone who loves fantasy – pick it up, you're almost guarantueed to like this!
---
7. The nights are getting darker: share a dark, creepy read.
If anything I read has ever truly disturbed me, it's Apt Pupil by Stephen King. This is a novella about a boy named Todd Bowden, who has been a model student his whole life. While doing research, he discovers that an old man living in his neighborhood is actually a Nazi criminal in hiding, but instead of turning him in, Todd decides he wants to know more about Mr. Dussander's role in the holocaust.
The events that then transpire at Mr. Dussander's house are seriously grim and disturbing. Apt Pupil is absolutely horrifying, but I couldn't put it down once I'd started reading!
---
8. The days are getting colder: name a short, heartwarming read that could warm up somebody's cold and rainy day.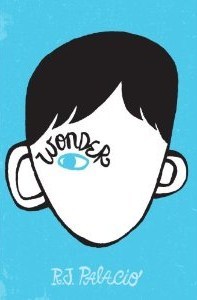 Wonder by R.J. Palacio is a beautiful and heartwarming story about a boy named August, who was born with a facial deformity that resulted in a large number of operations. Due to these, Auggie was previously homeschooled, but now he's about to attend fifth grade at Beecher Prep School. All he really wants is to fit in, but he looks so different that he knows it won't be an easy task. This is a wonderful (sorry for the horrible pun – I couldn't resist) story about accepting people for who they are, not what they look like, told from a variety of different perspectives. It may not be the shortest book out there, but it's still a pretty fast read that anyone can enjoy. I highly recommend it!
---
9. Fall returns every year: name an old favorite that you'd like to return to soon.
Since The House with a Clock in its Walls by John Bellairs has a movie adaptation that will be coming out soon, I think I might reread this sooner rather than later, so that I can watch the movie afterwards without forgetting the way I imagined things in my head. This is a middle grade novel following Lewis Barnavelt, who has been sent to live with his Uncle Jonathan after his parents' death. Lewis discovers that there is a lot more to his uncle and new neighbor, Mrs. Zimmerman, than initially meets the eye, and he is soon swept up in a horrifying escapade to save his new home from impending doom. This story is marvelously creepy, and I remember devouring it along with John Bellairs' other books when I was in third or fourth grade. I've reread it a couple of times since then, but it's been a while, so I definitely want to refresh things before watching the movie (which I'm kind of skeptical of after watching the trailer, but I still want to give it a chance, seeing it's an adaptation of one of my childhood favorites).
---
10. Fall is the perfect time for cozy reading nights: share your favorite cozy reading "accessories"!
Does my bed count? I nearly always read in my bed and it's just so comfy. I have my big Hogwarts pillow that I can lean against, and when it gets really cold, I sometimes just wrap my sleeping bag around myself. It's always on my bed anyway, since I use it as a sort-of extra cover to protect my blanket from the cats and the dirt they bring with them… Also, food. The best one is chocolate with hazelnuts, but unfortunately, I don't have it all too often.
---
11. Spread the autumn appreciation and tag some people!
I won't be tagging anyone directly, but if you want to do this, consider yourself tagged. Just let me know that you did it, so that I can check out your answers!
---
Anyway, I hope all of you are enjoying the autumn season! If you've read any of the books I mentioned here, feel free to let me know your thoughts! And if you have any good cozy fall recommendations to curl up to, bring those on as well!