We might be a little past the mid-year mark already, but we're still close enough to the middle of the year that I don't feel bad at all about posting this now 😉 The Mid-Year Book Freak Out Tag was created by Chami at IsThatChami and Ely at Earl Grey Books, and it's a great way to talk about the books that have impacted my reading experience for the first half of the year.
As of now, I have read 52 new-to-me books in 2018, all of which you will find in my monthly wrap-ups – except the August ones. You'll have to wait until September for that wrap-up, cause I'm planning on reading plenty more till then.
But anyway, this tag has 15 questions, which will be dealing with said 52 books. As well as a couple of others. So enjoy!
---
1) Best book you've read so far in 2018?
The Storied Life of A.J. Fikry by Gabrielle Zevin. This is simply the perfect book for a book nerd. It's about a bookstore owner, about family, about love, and it has wonderful literary references throughout. I read this in March, but the story has stuck with me until now, and I will definitely have to reread this again soon. Needless to say, I loved it 🙂
---
2) Best sequel you've read so far in 2018?
This is probably a tie between Thunderhead by Neal Shusterman (sequel to Scythe) and Godsgrave by Jay Kristoff (sequel to Nevernight). Both of these books added so much to the world they were set in, had amazing character development and character relationships and a unique plot full of twists and turns. Let's just say I am itching to get my hands on the next books in each series…
Also, although it's not technically a sequel, I have to mention Tempests and Slaughter by Tamora Pierce here, because boy, does this book deserve a shoutout. And even though it's the first book in the Numair Chronicles, it is a continuation of the Tortall series, so I guess it's kind of like a sequel? Whatever the case, you should read it!
---
3) New release you haven't read yet, but want to?
Immortal Reign by Morgan Rhodes, which is the sixth and final book in the Falling Kingdoms series. I really loved the first four books in this series, but unfortunately the fifth was rather mediocre and the reviews for Immortal Reign haven't been that great either. Still, I really want to know how the series ends and I'm definitely going to read this. I'm just waiting for the book to come out in paperback, so it'll match the rest of the series 😉
---
4) Most anticipated release for the second half of 2018?
Muse of Nightmares by Laini Taylor. This is the sequel to Strange the Dreamer and will be released on October 2nd. I will definitely be getting a copy as soon as this comes out – I am so ready to be back in this mesmerizing world crafted by Laini Taylor's stunningly lyrical writing and after the ending of Strange the Dreamer, I'm sure there is going to be a ton of action, betrayal and heartbreak. And I am so down for it!
Also, I am most certainly going to get my hands on a copy of the The Crimes of Grindelwald script – but since I'm more excited for the movie here, not the book version, I'm not really counting this as a new book release.
---
5) Biggest disappointment?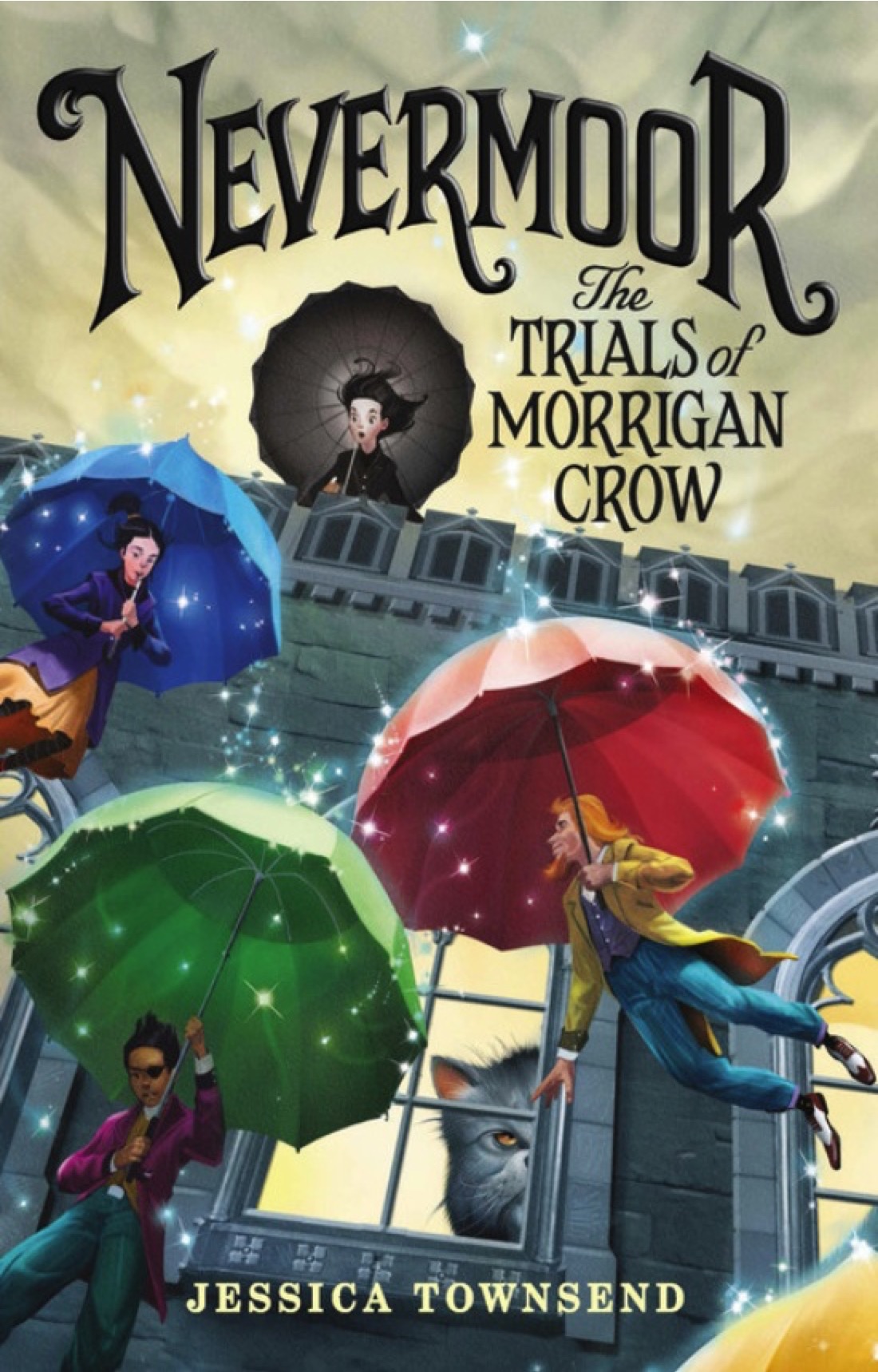 Probably Nevermoor: The Trials of Morrigan Crow by Jessica Townsend. This was by no means the worst book I read this year; it was actually pretty average. But I'd heard so many amazing things about this book that I was expecting much, much more. Hence, the disappointment.
---
6) Biggest surprise?
This goes to Ready Player One by Ernest Cline, no question there. I avoided this book for years because I was sure I wouldn't like it. Gaming, 80s pop-culture – those just sounded like something I'd find incredibly boring. I only ended up reading this book because the library had it, so I was like, "Sure, I guess I'll give it a go, and maybe DNF it if it gets to bad…". And then I stayed up the whole night reading. So yeah, this one was definitely a surprise.
---
7) Favorite new author?
I can't say anything definite here because so far, I've only read one book each by these authors. But these people are certainly on my radar now, because the books of theirs that I read were amazing!
Some candidates are: Gabrielle Zevin (author of The Storied Life of A.J. Fikry), Celeste Ng (author of Little Fires Everywhere), M.L. Rio (author of If We Were Villains), and S.A. Chakraborty (author of The City of Brass). I highly recommend checking out their books – all of the ones I mentioned here had excellent writing in addition to excellent characters, world-building, and plot.
---
8) Newest fictional crush?
There isn't really anyone yet that I've fallen for head over heels this year. I did support most of the fictional couples I read about, but in terms of liking someone myself? I guess it's just hard to live up to previous ones like Gilbert Blythe or Peeta Mellark…
I guess Dimitri from the Vampire Academy series by Richelle Mead comes closest (I've only read the first three books so far, though, and after that ending, I'm not sure how much I should still be hoping…). Which probably means I should get my head checked, since I still have a tendency to fall for the brooding, forbidden love interests… That's not healthy, right?
Another slightly better candidate might be Dušek from The Penderwicks At Last. I love him, but since he didn't get that much page time, I can't say it's a full fictional crush. But he's definitely great boyfriend material!
---
9) Newest favorite character?
Maya, from The Storied Life of A.J. Fikry. I know, I know, I keep mentioning this book. But that's because I loved it so much! And I just found Maya so relatable. She's inquisitive, she loves reading and writing, and she cares deeply for her family.
However, honorable mentions go to Cam from the Unwind Dystology by Neal Shusterman, who is one of the most interesting characters I have read about in a long time, and Oliver from If We Were Villains by M.L. Rio, who is just such a good friend and an adorable Shakespeare-nerd.
---
10) Book that made you cry?
None, so far – at least if you count me crying full out. But that basically never happens anyway. I did tear up a bit while reading Autoboyography by Christina Lauren though…
---
11) Book that made you happy?
All of them? That's sort of the point of reading, isn't it? But The Storied Life of A.J. Fikry, The Penderwicks at Last, and Autoboyography in particular. Not because they were among my favorite books of this year so far (which they were), but because they were also happy stories. Somehow, lots of my favorites always involve death, tragedy, and bloodshed. These, however, were genuinely happy. For the most part, at least 😉
---
12) Favorite book to movie adaptation you saw this year?
This may be bad, but – I haven't actually seen one yet this year. I was a little busy with university… I'm planning on Love, Simon, though, so I have high hopes for that since everyone's been telling me that it's really good.
---
13) Favorite review you've written this year?
Again, I'm very behind on writing reviews thanks to university… So far, I've only written two (at least if you don't count the short reviews I always do in my wrap-ups) and one of those is my review of The Penderwicks At Last, which is basically a big mess of rambling because I wrote that immediately after finishing the book. I'd say my Children of Blood and Bone review is definitely more coherent, although I also think that it comes off a bit more negative than I actually intended it to. I guess I'll just have to write that excellent review in the second half of the year.
---
14) Most beautiful book you bought this year?
I got lucky with a lot of covers this year. Godsgrave, Thunderhead, Children of Blood and Bone, The Shadow of the Wind and Autoboyography are all up there.
---
15) What books do you need to read by the end of this year?
So many! I really want to pick up a few classics – somehow university always makes me want to read more shallow stuff that's less exhausting to read, so I always ban them to semester break. But I do want to read A Tale of Two Cities, Hamlet, and Macbeth this year, if not more. Also, I really need to read Morning Star by Pierce Brown. I've owned the book for almost two years now and I still haven't read it because I didn't like Golden Son. But it's the only book on my shelves that I didn't just buy that I haven't read yet, so it really needs to happen!
---
And that wraps up my mid-year wrap-up! Let me know what your favorite book of the year has been so far, and feel free to come chat with me if you've read any of the books I mentioned yourself!