So – May is over, and despite having to prepare a presentation for university about every other day, I did squeeze a bit of reading in. Hence, here is an overview of the books I read in May:
---
---
UnSouled (Unwind #3, 4/5 Stars) and UnDivided (Unwind #4, 4.5/5 Stars) by Neal Shusterman
Again, I can only say that these books have only confirmed what I have long suspected – if there is a King of Dystopia out there, Neal Shusterman is a serious contender. I can't say very much about these books, since that would spoil large parts of the first two, but boy, does this world become more intricate and fleshed out.
We get so much more backstory on the political history of unwinding (i.e. splitting people into parts so their organs can be donated to those in need) and I have to say, I can actually see this happening now. While the first book had me very skeptical, UnSouled and UnDivided have added so many more layers that I don't think it is such an unrealistic scenario anymore. It's scary, but I have to admit – the world-building is brilliant.
Like in UnWholly, the series continues to branch out as it goes along. We are back with old favorite characters, but we also get new ones. I really enjoyed learning more about Cam and Lev's backstories on the Arápache reservation and I thought it was interesting how Neal Shusterman included Native American elements in this version of the future. In general, I have to say that Cam's character history and development was by far one of the most interesting I have read in a long time – it really made me think about what determines who a person is, what makes them them.
Starkey's development was also fascinating, although I still despise him as a character. The whole exploration of rebellion, whether and to what extent it's justifiable, is a big theme in this series, and Starkey's path to dictatorship was very enlightening in this context. In general, I think that the Unwind Dystology has some excellent villains – their choices, while horrible, always have a plausible reason behind them, which is one of the reasons why this series is so good.
The final book, UnDivided, is also a solid ending to this series. Loose ends are tied up and there is no denying that it has quite a dramatic showdown. While I do think that there could have been a bit more death – I'm always a fan of a dramatic dystopian finale with lots of loss, since that seems more realistic to me in a world like this – this story had a satisfying conclusion and I can certainly recommend it to any fellow dystopian fans out there!
---
Challenger Deep by Neal Shusterman (3/5 Stars)
Is it surprising that after finishing the Unwind Dystology, I just needed a bit more Neal Shusterman? Still, I decided to take a break from dystopia and delve into contemporary instead (although this book isn't your typical contemporary, either).
Challenger Deep follows Caden Bosch, a boy struggling with mental illness. He becomes more and more withdrawn and paranoid, until, despite his efforts to hide it, even his family realizes that something is wrong and Caden is sent to a mental health clinic. This book follows Caden's journey on coming to terms with his illness, his relationships to other patients at the clinic, his family, and his friends. On the other hand, it also follows the story of Caden Bosch, a passenger on a ship trying to explore the depths of the ocean – the alternate reality that Caden lives in to cope with his illness.
Challenger Deep jumps back and forth between the two storylines and by comparing them, the reader gets to understand more and more about Caden's life and current situation. Throughout the book, we also get Caden's illustrations (drawn by Neal Shusterman's son Brendan, who struggled with mental illness himself), which reflect the struggles going on in Caden's mind. On the whole, this is probably (as far as I can tell) one of the most honest portrayals of mental illnesses like schizophrenia or bipolar disorder I have ever read, and I can't deny that this book is excellently written.
However, I personally just didn't enjoy reading it that much. One reason for this was that I just found it extremely depressing – which is kind of the point of this kind of story, but still, it made it less enjoyable to read. Another reason was that the beginning confused me a bit. This book had extremely short chapters and all the jumping back and forth between reality and the ship storyline made it a bit hard to understand what was going on at first (although again, this was an excellent way of showing the disorientation Caden was going through). However, I also didn't really enjoy the ship storyline by itself – it made a lot of sense together with the other story, but apart from that, I just found it to be slightly dull.
Nonetheless, this book definitely gets you thinking, just as everything Neal Shusterman writes seems to do. You ask yourself what the best way to deal with mental illness is and how this compares to the way our society does it, how we should treat those affected, if they are a different person with and without the illness, if we have a right to "cure" them… The list goes on and on, and I'd say for that (and the writing) alone, the book deserves all the awards it's been getting.
Still, if you do decide to pick this up, be aware that there is plenty of depressing and triggering stuff in here, and that the narrative style might seem a bit weird at first. However, if you're interested in that sort of thing and if you like deeply metaphorical books, I think this one might be for you.
---
The Penderwicks at Last (The Penderwicks #5) by Jeanne Birdsall (4.5/5 Stars)
This was my most anticipated book of the year, so of course I read it immediately when it came out. If you haven't picked up The Penderwicks yet, you definitely should! It has one of the best, funniest, most adorable, and realistic fictional families out there and I have reread all the previous books in this series countless times.
The finale definitely still had what makes me love this series so much: the charm, the family relationships, the extremely fleshed out characters – all that was there. However, after having reread this and thought about it more, I have decided I'm not completely satisfied with it either (which is why I docked half a star in my rating).
It was an excellent book, but with Jeanne Birdsall, I've come to expect the extraordinary and for me, this book did not focus as much on the Penderwick family as a whole as I would have wished for in the conclusion to this series. Yes, everyone we love is there, but the book is very much about Lydia, the youngest sibling, and the older siblings are just there on the outskirts of her story. And I understand that – it reflects growing up, moving away from home, and starting new families; it reflects that stories never fully come to a close and that there are always new stories waiting out there, even if a chapter in life is over. Nonetheless, I wish we had gotten more, and I'm sad that this series is now over and I only have rereads to look forward to.
If you haven't read this series yet, do it! And if you want more of my in-depth thoughts (at least the ones I had immediately after reading this), you can check out my spoilery review here.
---
The Fates Divide (Carve the Mark #2) by Veronica Roth (3.5/5 Stars)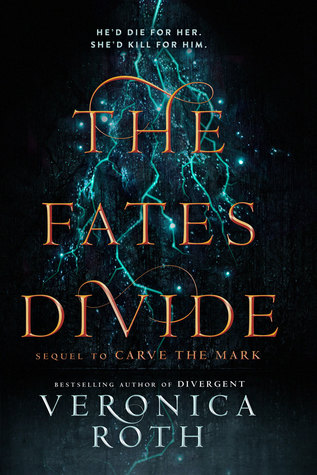 This is the sequel to Veronica Roth's Carve the Mark and, in my opinion, a solid conclusion to the series (and let me tell you, after Allegiant, which suddenly went off on a completely different tangent, I did have my doubts…).
I know there was quite a bit of controversy about Carve the Mark when it first came out – nonetheless, I really enjoyed it, and don't agree with the claims that it's racist (when reading carefully, you can tell that there are people of different skin colors in all the represented nations, unlike a lot of reviews claim), although I can see how the issue of chronic pain might not have been handled that delicately. In this book, though, I think you can tell that Veronica Roth took that criticism to heart and took a much deeper approach to the themes handled, which I really appreciated.
We also get to see so much more of the world in this book, since Cyra and Akos are on the run and travelling to different places during a large part of it. I really enjoyed getting to know the planet Ogra and how it compared to Cyra and Akos' home world. I liked how this book had a much bigger political dimension than the previous one and we suddenly saw how interplanetary interests played into what had previously seemed like a simple feud between two nations.
To my surprise, I also liked the introduction of Akos' sister Cisi as a third POV character (normally, I do not like it much when that suddenly happens in the last book to a series). Her way of seeing and influencing the world and how all this was shaped by her currentgift was a fascinating concept and her perspective certainly added more depth to the political world-building of the story. I also really liked the way her relationship with Isae was written – finally, a lesbian relationship that is treated just like any other relationship, without the constant emphasis on not being heterosexual!
However, I did also think that the politics could have been more fleshed out and that some of the "plot twists" were rather predictable. All in all, though, this was a solid story, and if you are looking for some soft sci-fi, i.e. without all the hard science facts behind it, this might be worth your time.
---
So yeah – that was everything I read in May! I hope you guys also had a great reading month, and do let me know your thoughts on any of the books above that you've read!