Ugh – university has definitely gotten to me, reading-wise and blog-writing-wise. I mean, I have been reading a lot. In the past months, I must have read thousands of pages of articles about diversity in schools, language prescriptivism, efficient computational algorithms, and so forth. But I've barely been able to get any reading for fun in – and let's not even speak of blogging.
It's probably not the best idea to blog now, either, since I still have a ton of homework to complete by tomorrow, but I've been spending the entire day trying to prove the complexity of a variant of the Karatsuba multiplication for computer algebra homework and decided I needed a break. Badly. Besides, my April reading wrap-up is long over-due! So here is a brief overview of the five books I read last month:
---
---
Little Fires Everywhere by Celeste Ng (4.5/5 Stars)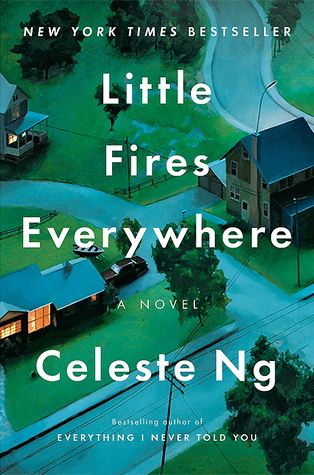 Since Celeste Ng's books seem to have been getting rave review after rave review, I decided I finally needed to pick one up. And I wasn't disappointed. Little Fires Everywhere is excellently written and will definitely make you think.
The majority of it is set in the 1990s in Shaker Heights, a wealthy suburb of Cleveland, which is seen as very progressive and orderly. The Richardsons, a family with four children who have lived in Shaker Heights their entire lives, have recently gotten new tenants: the artist Mia Warren and her teenage daughter Pearl. Pearl soon becomes friends with the three oldest Richardson children, while Izzy, the youngest Richardson child, finds herself drawn more and more to Mia and her artwork. All seems well, until old friends of the Richardsons decide to adopt a Chinese-American baby and a vicious custody battle erupts. Shaker Heights finds itself divided by differing opinions on the case and suddenly, people start to realize that their town is hiding ugly secrets beneath its perfect surface.
This book made me think a lot about what society expects from us, what it means to feel different, and, most of all, about what it means to be a good mother. I also especially enjoyed finding out more about Mia's past through the flashbacks on how she pursued her dream of becoming a photographer – I related so much to Mia; not because I was in a similar situation per se, but because you could see how much Mia loved art and learning, and channeled all her energy into it. Her pursuit of what she loved, her relationship to her brother, her struggles at college – it just made her such a real and sympathetic character.
On the whole, if you love slower-paced contemporaries that focus on social issues, you'll probably really like this one. It's certainly not black and white and gives you a lot to think about. Although I have seen a lot of the issues portrayed in here dealt with before, this book sticks out by the way it deals with them. It is complex, well written, and certainly deserves the praise it's getting!
---
Never Let Me Go by Kazuo Ishiguro (3/5 Stars)
This is the second book of Kazuo Ishiguro's that I've read, the first one being The Buried Giant, which I read last year. I really enjoyed the writing style of The Buried Giant, the nerdy King Arthur references, and all the symbolism, but the writing was also pretty dense, slow, and depressing, which didn't make the book any less good, but just didn't make me enjoy it as much. Still, I found Ishiguro to be an excellent writer and I wanted to give him another go on a topic that interested me more. Then, when it was announced that he won the Nobel Prize for literature, I started hearing more and more about his other books and Never Let Me Go immediately intrigued me (I won't say why, because the reason I thought I'd like it is actually a pretty big spoiler).
However, I do have to preface this by saying that I feel very similar about this book to the way I felt about The Buried Giant. It is excellently written and deals with some important issues, but the pacing is extremely slow, the characters are very passive, and the message of the book is very depressing. Again, this is not a bad thing at all, just not really my cup of tea. I didn't hate the book, but I didn't love it either, although objectively speaking, the writing is excellent. I hope you get what I'm trying to say here – I just find it really hard to put my feelings on this book into words…
Anyway, to get to the point: this novel follows Kathy H., a young woman in a future version of England. Throughout the course of the novel, Kathy reflects on her life up until this point, beginning with her childhood at the seemingly idyllic boarding school Hailsham. However, throughout the novel, the reader gets more and more of a sense that something is off, although Kathy herself does not dwell on any of the details that the reader may find striking. Instead, for Kathy, this is more of a story about growing up, finding one's place in the world, and falling in love. The real issue always lurks in the background and is never the direct focus, which makes it all the more horrifying and depressing.
And that's all that I'm going to say here because, as you might have noticed, it's extremely hard to talk about this book without spoiling anything. However, I'd recommend it to anyone who loves slower-paced, deeply critical reads, and who doesn't mind a bit less action. This books certainly has a lot of introspection, and if you like that sort of thing, I think you'll adore this one.
---
The Fill-In Boyfriend by Kasie West (3.5/5 Stars)
Objectively speaking, this probably isn't the best book ever. It's incredibly cheesy, has some of the most cliché characters you'll ever encounter, most of the big YA tropes pop up somewhere along the way – and I thoroughly enjoyed every minute of it. This book was exactly what I needed in order to escape the stress of university and despite its obvious flaws, it wormed its way into my heart.
This is a coming-of-age story following Gia Montgomery, who, at the beginning of the book, is basically the prototypical popular girl at high school. When her boyfriend dumps her right before prom because he realizes that Gia only wants him there in order to show off to her friends, Gia is devastated, but resourceful enough to salvage the situation. When she sees a boy waiting to pick up his sister, she convinces him to pretend to be her boyfriend. A decision that will cause a lot of upheaval in Gia's future…
This book is not a literary masterpiece, but it's fun, quirky, and has some pretty well-done character development on the main character's part.
---
UnWholly (Unwind #2) by Neal Shusterman (4.5/5 Stars)
I'm so glad I picked up Scythe last year because that book led to my discovery of the amazingness that is Neal Shusterman's writing. UnWholly is thought-provoking, action-packed, interesting and suspenseful, and has a thoroughly diverse cast of characters that makes for a very multifaceted view of this world. I can't say much about this book, since doing so would spoil a lot of Unwind, but I can say that I think this series just gets better and better with each book (I read the other two in May, so stay tuned for that wrap-up…).
UnWholly deals with the aftermath of events in the first book and brings back old favorite characters, while at the same adding some new (and extremely interesting) ones. There's Starkey, who seems sympathetic at first and whose reasoning I can understand, but whom I grew to despise with a passion. There's Miracolina, a tithe saved from unwinding (=dividing people into parts in order to give their organs to other people), who brings such an interesting and contrasting view to the practice than Lev did in the first book. And, most interesting of all, there's Cam, who is made up entirely of unwound parts.
This book gave so much more back story to unwinding and the advertisements and snippets from modern newspapers made this practice seem more and more probable. I must say, Unwind had me skeptical about the plausibility of unwinding, but as the series continues, you see more and more that maybe the idea isn't so far-fetched. I thoroughly enjoyed this book, and at the same time, it really got me thinking. If you love a well written dystopia and haven't already, check this series out!
---
Children of Blood and Bone (Legacy of Orïsha #1) by Tomi Adeyemi (2.5/5 Stars)
It seems to me that this is the book everyone has been reading since it came out in March, and, apparently, everyone loves it. I've heard people say this is an African Harry Potter, one of the most original fantasy stories they've ever read, an absolutely brilliant debut: everyone is gushing about how amazing this book is, and of course, I was incredibly excited to pick it up.
Sadly, I was extremely disappointed. For the life of me, I do not understand why everyone thinks this book is so great. Granted, I did think the elements of Yoruba mythology were extremely interesting and made for a refreshing change. I don't think I've ever read a fantasy novel with a traditional African setting before. However, if you strip the book of this, you end up with one of the most cliché YA fantasy plotlines ever, a terrible romance, and writing that could have benefited from a lot of additional editing.
This story is set in Orïsha, a fantastical country based on modern-day Nigeria which used to be brimming with Magic. However, several years before the story takes off, the King of Orïsha raided the country, killing everyone who showed signs of magic. Only the children with white hair, known as divîners, are a sign that magic ever existed – but the divîners never gained their powers and it seems that magic has disappeared completely from Orïsha. Then, one day, a mysterious scroll props up, and everything changes. Two teenagers, the divîner Zélie, her brother Tzain, suddenly find themselves accompanied by the princess Amari, the daughter of the king responsible for their mother's death, on a quest to return magic to Orïsha. Pursued by the king's soldiers led by Amari's brother Inan, they must fulfill their quest before magic is lost forever.
I know – that actually sounds like a pretty cool synopsis. I think that's part of the reason why I was so disappointed. This book had so much potential, and with a bit more editing, this could easily have been excellent. I won't go into more detail here because of spoilers, but I do have a full review which you can check out for more of my in-depth thoughts.
---
And that was it for today! I'll be returning to all that math homework now… But if you've read any of these books, feel free to let me know your thoughts on them!